All in one system
to manage your facility.
Elevate your operations with our comprehensive and user-friendly gym management software.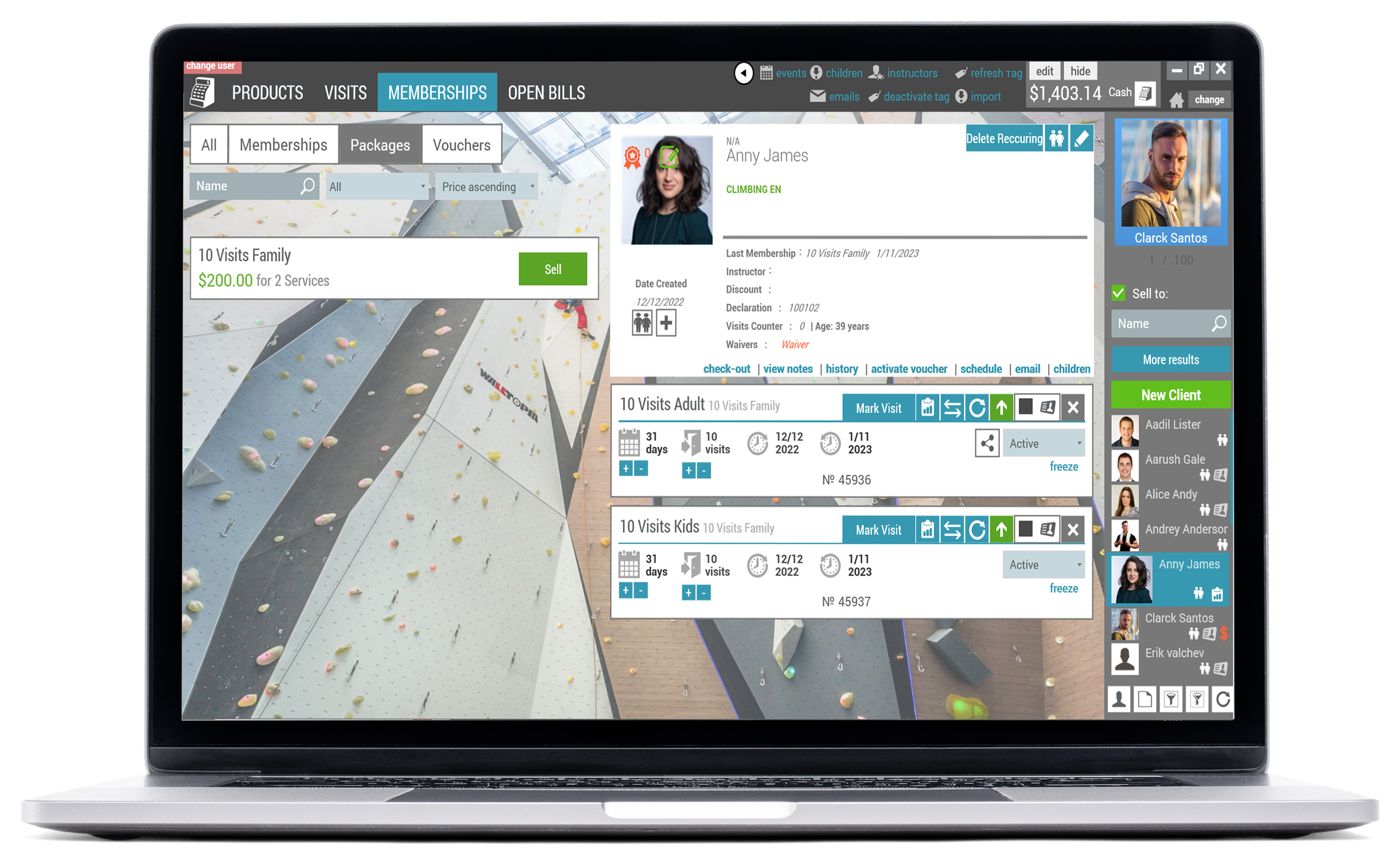 Easy to use and touch friendly. The system is integrated with barcode scanners and payment terminals to speed up the process, reduce staff errors and remove the queues on reception.
Complete database of your customers
Collect full information about your clients with pictures, documents, waivers, specific fields and payment information. Create group profiles or assign different categories depending on customer status.
Simple and fast system to collect all the necessary customer information. All the waivers are mobile friendly and can be used on any device. Supporting multiple different languages and custom translation. No more matching customer profiles with signed waivers. Our process is fully integrated and the document is assigned to the correct profile and can be used on POS right away.
Automate your check in process
Our software is fully integrated with RFID readers, Barcode scanners, face recognition cameras and turnstiles. Memberships are automatically activated so your customer can self check in to reduce queues on reception. The software supports different areas so you can restrict customers based on time or area.
Single point of access for your clients
The online portal is a software interface that gives customers complete visibility into their interactions with your facility. Clients can purchase a new membership, check their waiver or book a class. The portal can be branded with colors matching your website.
Take control of your gym's operations with our powerful software solution.
Streamline your gym's operations with our all-in-one gym management software. From class scheduling and member billing to employee management and performance tracking, our software has you covered. Say goodbye to tedious manual tasks and hello to more time to focus on what matters most – your members. Try it out today!
We are proud to work with a diverse group of partners who share our commitment to excellence.
We are proud to serve a diverse group of customers who rely on us for our products and services.